With JoJo away on holidays, LiLi was forced to eat by herself.... Her poor and lonesome self. But as fate would have it, she was about to meet someone that enjoyed food and connecting food lovers across Melbourne.
It was by chance that LiLi bumped into Pheh Sze, owner of Food Social. LiLi introduced her mates to Meetup who are in the works of starting their own business. She suggested it was a good source of networking with other business owners and entrepreneurs. StartUp Victoria was hosting a "How to get your first paying customer" seminar and her old mates thought LiLi could benefit from the advice.
She noticed Pheh handing out her business cards to other ladies in the row in front of her and thought "What is Food Social?". She had to wait a good two hours, after all the guest speakers finished their stories, before she'd tap Pheh on the shoulder to introduce herself. Food Social, as LiLi came to learn, is a collaborative food experience with top restaurants and chefs. It emphasizes the social community in connecting food lovers in sharing unique food experiences.
After exchanging stories (and realising good opportunities from both parties), business cards and numbers were exchanged and Pheh asked LiLi to come to her event for Cheese and Wine Pairing at Two Tall Chefs that Saturday! Great! She had nothing good planned besides vegging out to Nashville on Netflix, so it definitely seemed like a better plan.
Li hadn't travelled to North Carlton in quite some time. It has an old feel to it's surroundings and as she approached Two Tall Chefs, she didn't realise that it was a delicatessen. It's quite noticeable after jumping off tram 96 as it seems to be the only establishment with chairs and tables outside. She was a bit apprehensive when entering as she thought the place was small and there seemed to be quite a few people attending the event.
This was a once off event set up by Food Social and isn't a regular feature that is held at Two Tall Chefs. What was included in this event was sparkling wine on arrival, trays of canapes, lots of photo time and an evening with the chef, Australian wine and cheeses.
The idea behind these events are to socialise as well as talking about your love of food. Li got to know some new faces and was extremely excited at diving into the cheese! To give you some insight, LiLi's favourite is Smoked Dutch Cheese and her favourite wine is Sauvignon Blanc. She doesn't mind a cheeky Brie or Camembert with crackers every now and then, and you can never go past a notable quince.
There was lots of mingling, laughter and admiration for the cheese fridge. LiLi talked about her blogging life (hoping those people were interested) and by 7pm it was time to retreat to the back yard where the wine and cheese tasting was to begin. Back yard? It's quite common across Melbourne for old housing establishments to be renovated into fun, modern restaurants with most sprucing up the back area into an accommodating outdoor soiree.
Lucky for us, the owners only opened up this part of the building just a couple of weeks prior. It was a fresh experience for the chef as he had never seen the back yard so full before. With Food Social and a great group of food lovers, this was surely accomplished.
Photos above courtesy of Food Social
The tables were perfectly lined with 4 glasses of wine each, 4 matured cheeses and a small patch of quince. What made this Food Social experience one above the rest, was Chef Monte Hudson interacting with all guests and giving insight into the operations and history of the Two Tall Chefs. He delved into how the original owner created Milawa Cheese Shop and passed his creation over to new, budding chefs who wanted to continue the legacy.
Chef Monte emphasized the display of Australian cheese and how each selection came to be matured and ripened. The wine selection, also all Australian, were the best recommended pairings to the cheese. LiLi did not drink red wine so she was ready for a new awakening.
Chef Monte mentioned there was no "right" way to eat the cheese, quince and wine. Everyone's palate is different and you could pair any item on the board together. Experimenting time!
the four cheeses
Kaarimba Soft (Cow)
Locheilan Farmhouse Cheese VIC
The Grotto (Cow)
Apostle Whey Cheese VIC
David Brown 4 year old cheddar (Cow)
Milawa Cheese Company VIC
Oak Blue (Cow)
Berry's Creek Gourmet Cheese VIC
The Kaarimba soft was the softest of them all. Typical brie with creamy smoothness. Was perfectly paired with the Sauvignon Blanc. It's said, the more this cheese is left to mature, the more the flavours are accentuated. You cannot be let down by a Brie.
Closely partnered to this cheese is The Grotto. This cheese starts off as a Camembert before being washed during maturation to give an orange appearance and pungent flavour. It gave a distinguishable wood, earthy after taste that lingers in your mouth.
The David Brown 4 year old cheddar is strong though crumbles when cut. It has so many flavours flowing through as it absorbs all aromas that float about in the cheese room during it's maturation. It has everything from being smokey, woody, creamy and sharp in flavour. It's definitely not a cheese for everyone though is a fantastic alternative to normal store bought cheddars.
The Oak Blue cheese is as expected. Powerful and penetrating in flavour, it's creamy finish polishes nicely. It is deeply veined and has the presence of the oak trees of Mossvale Park.
the four wines
Devil's Corner Sauvignon Blanc
Northern Tasmania 2014
Dalfarras Pinot Grigio
Central Victoria 2015
Arakoon Lighthouse Shiraz Cabernet
McLaren Vale 2013
Brown Brothers Heathcote Shiraz
Victoria 2014
The Devil's Corner Sauv Blanc is fruity and grassy in it's aroma. It has a fresh, crisp taste contributed by it's passionfruit and citris finish that balances on the palate.
Dalfarras' Pinot boasts a lean, honeyed taste through the use of citrus blossom, nashi pear and orange peel characteristics. It was not Li's favourite and left a sour taste on her tongue but that's not to say it's not an enjoyable wine for others. It's a dry wine which gives a bolder taste to the Sauv Blanc.
What's noticeable about the Arakoon Lighthouse Shiraz Cabernet is it's liquorice accent. It's lingering aftertaste is deep and rich. The mixture of blackberries, dark plum, liquorice and chocolatey vanilla oak drives a smooth taste. One to remember.
Brown Brothers do hold a prominent brand of wines that are enjoyable for most. This Heathcote Shiraz are a mixture of red and dark berries which is distinguished in it's colour. The pepper after tone is what gives this wine it's signature.
After all the food and wine festivities, it was trivia time! LiLi wasn't expecting such a fun addition to the night. Thanks Pheh for ensuring the guests interacted whilst being amused and entertained!

Luckily LiLi had good team members with way more knowledge about cheese than she ever will! Together they won a $10 voucher each for Two Tall Chefs and they were all quick to fawn over the cheese display to snag their purchases. A fine finish to an enjoyable evening!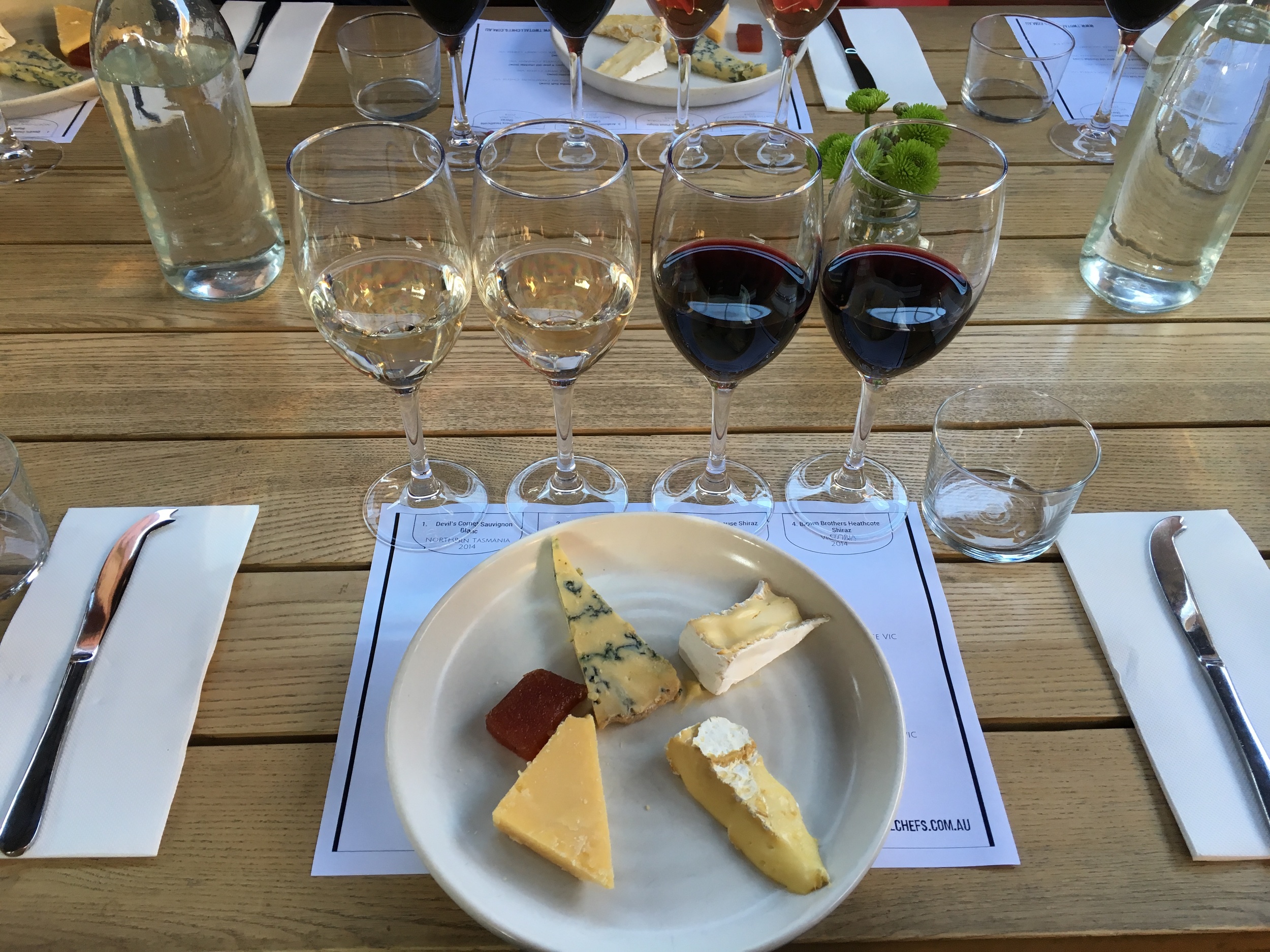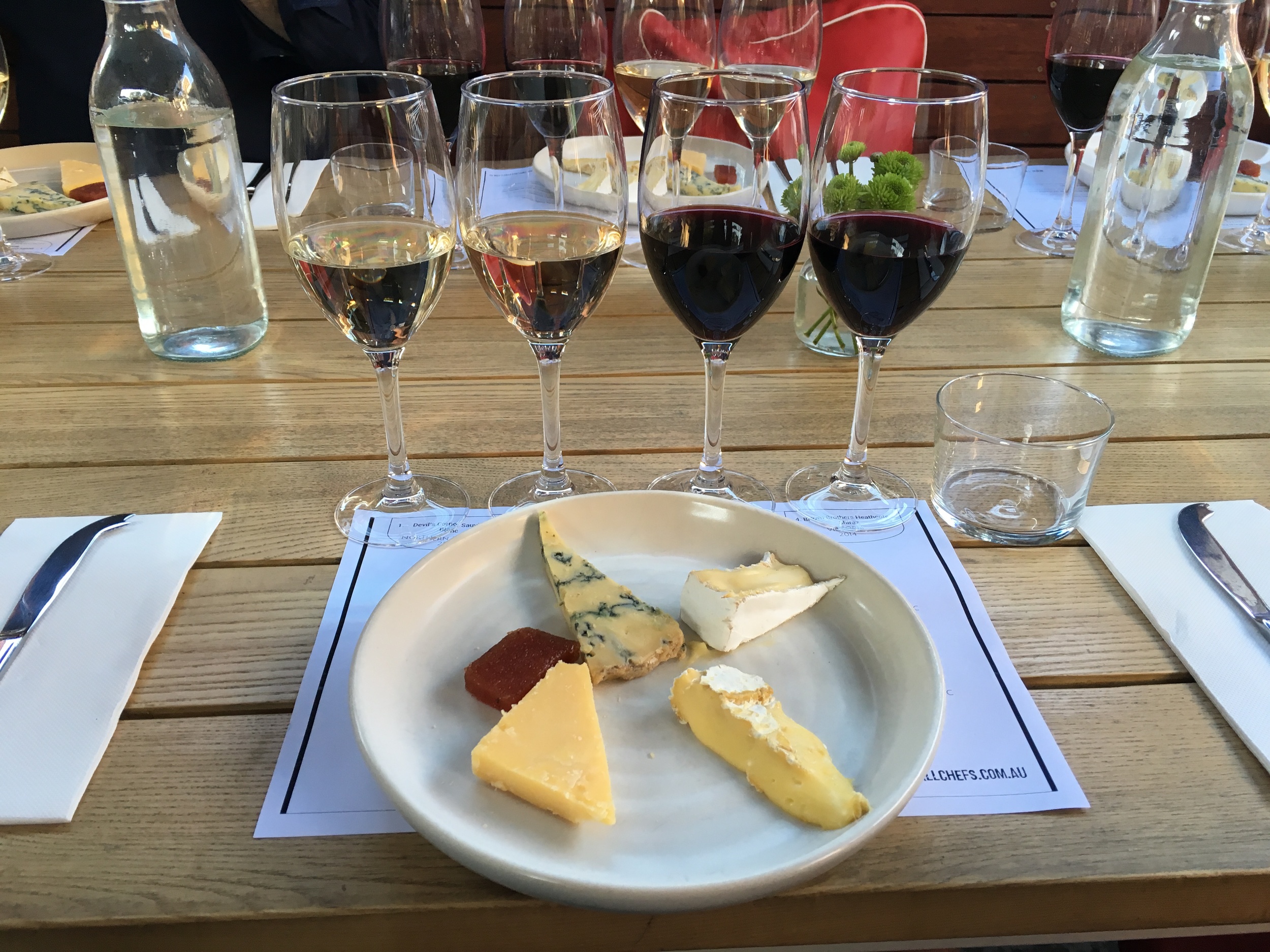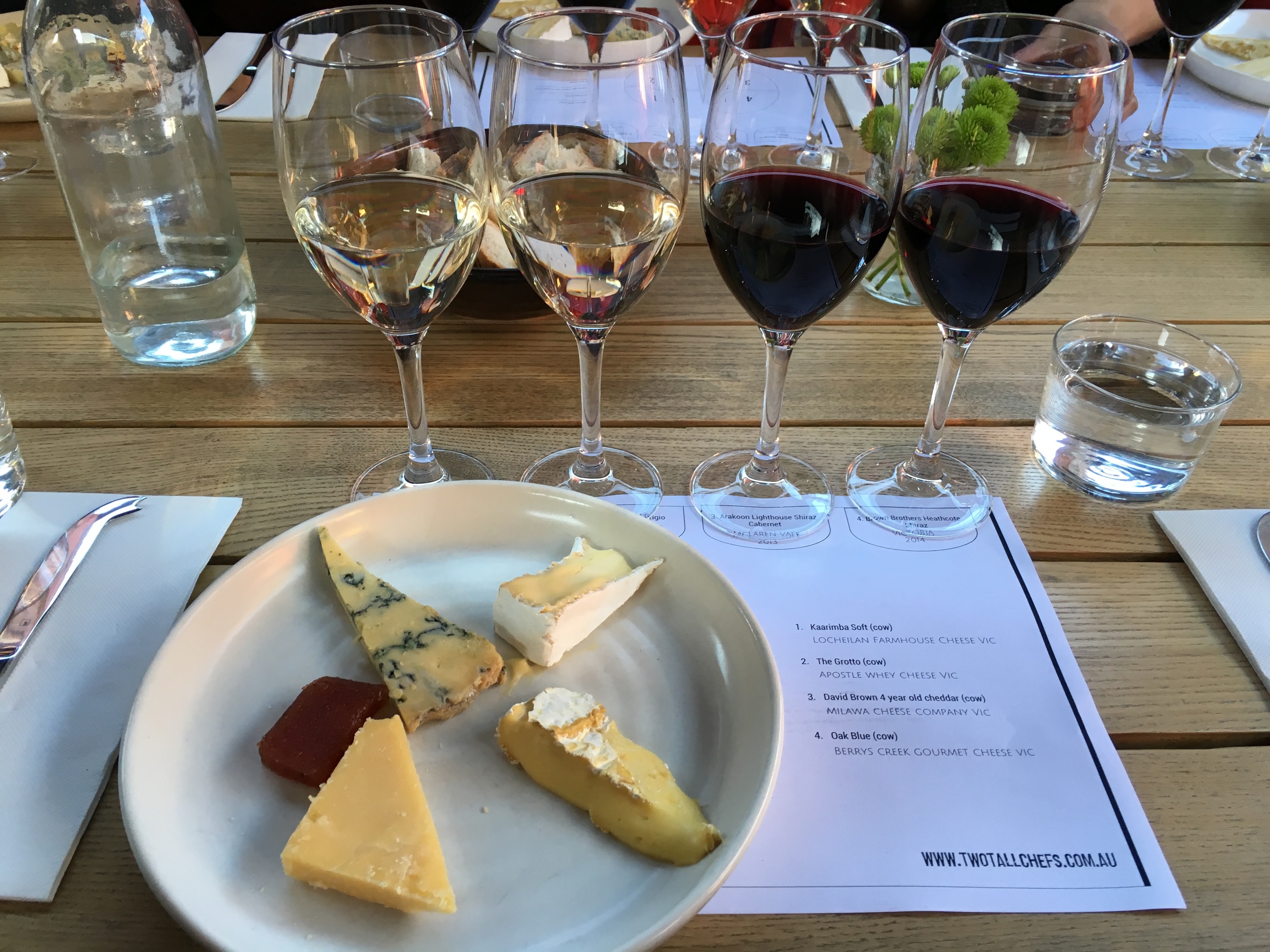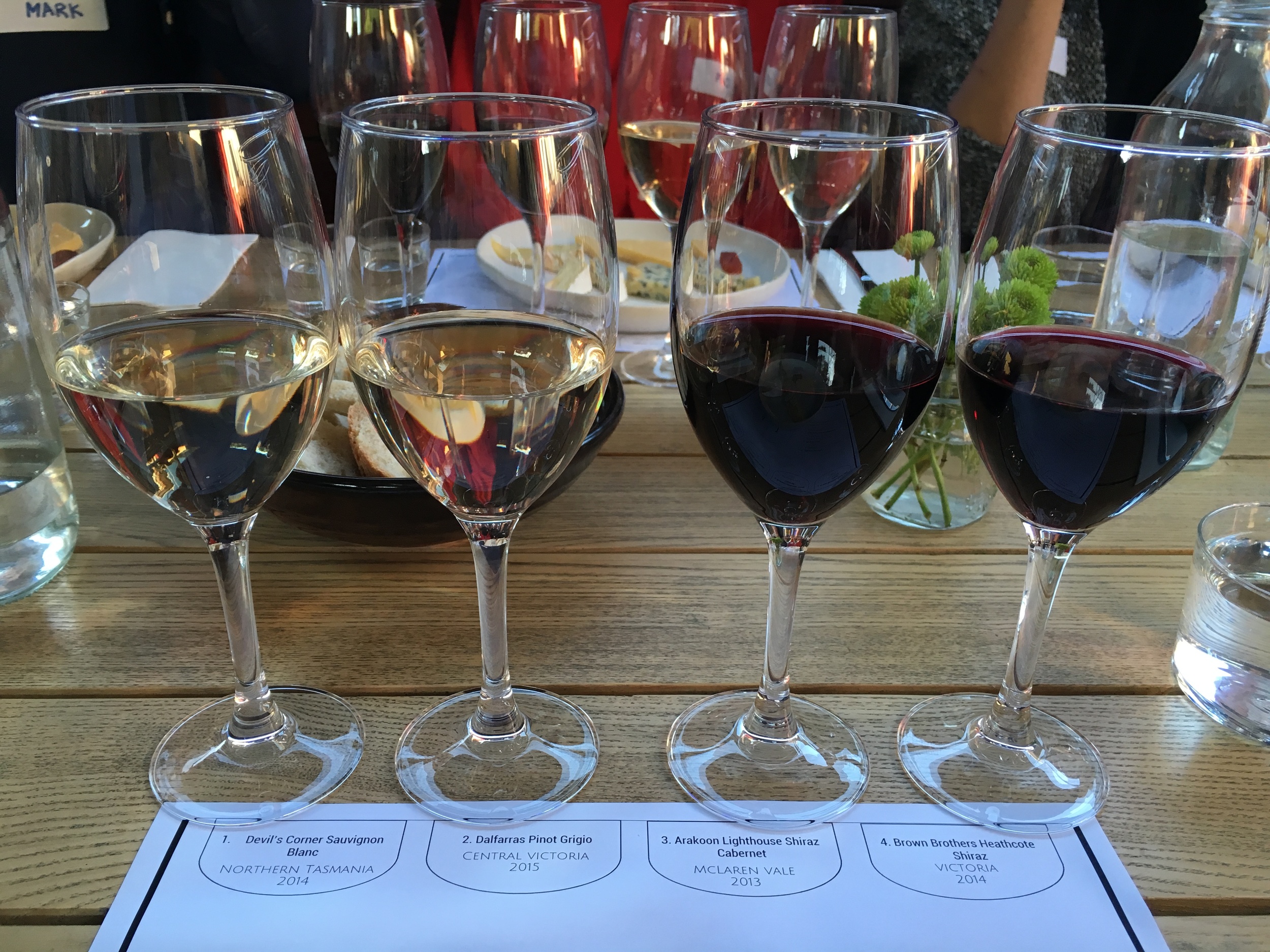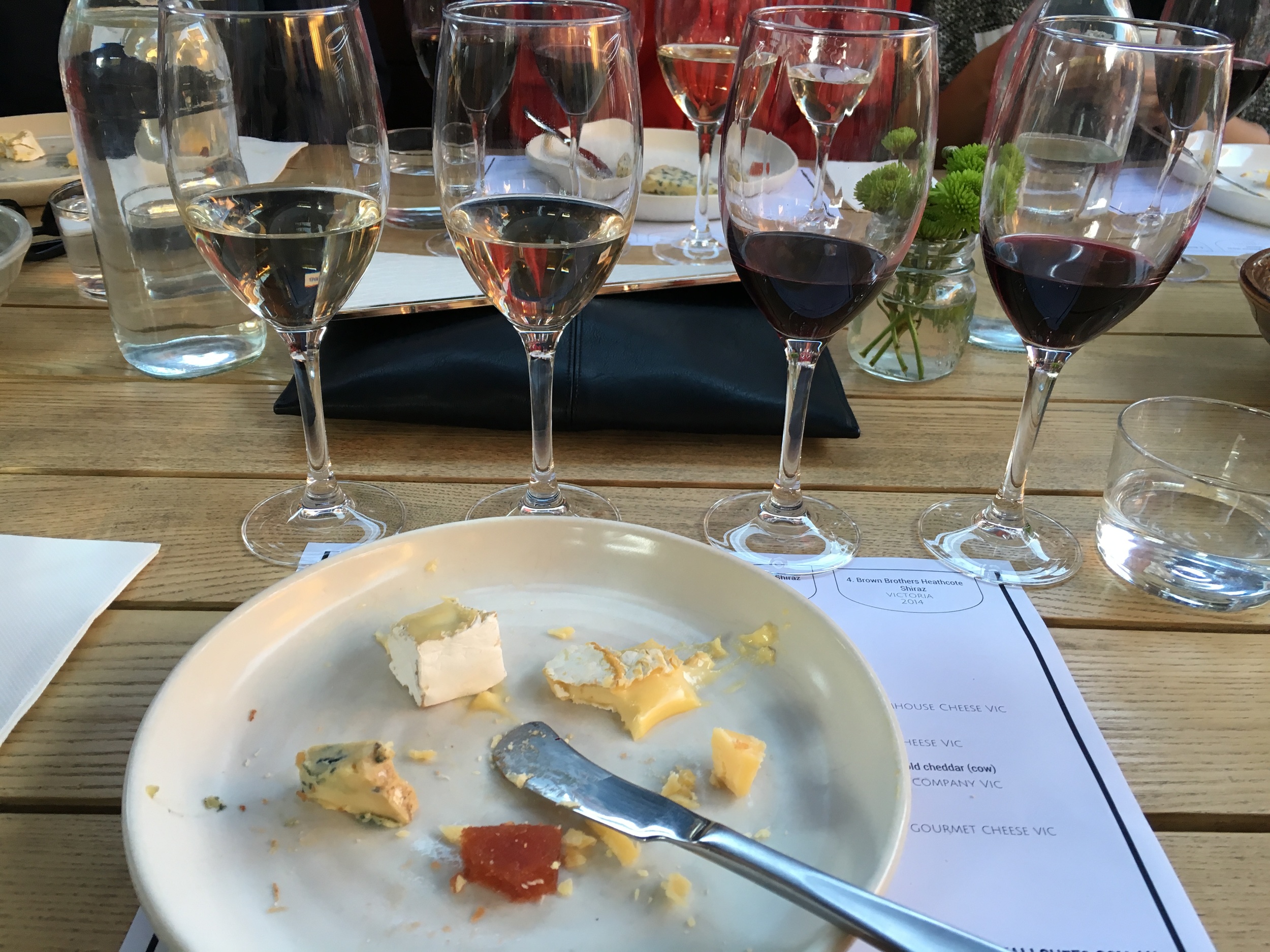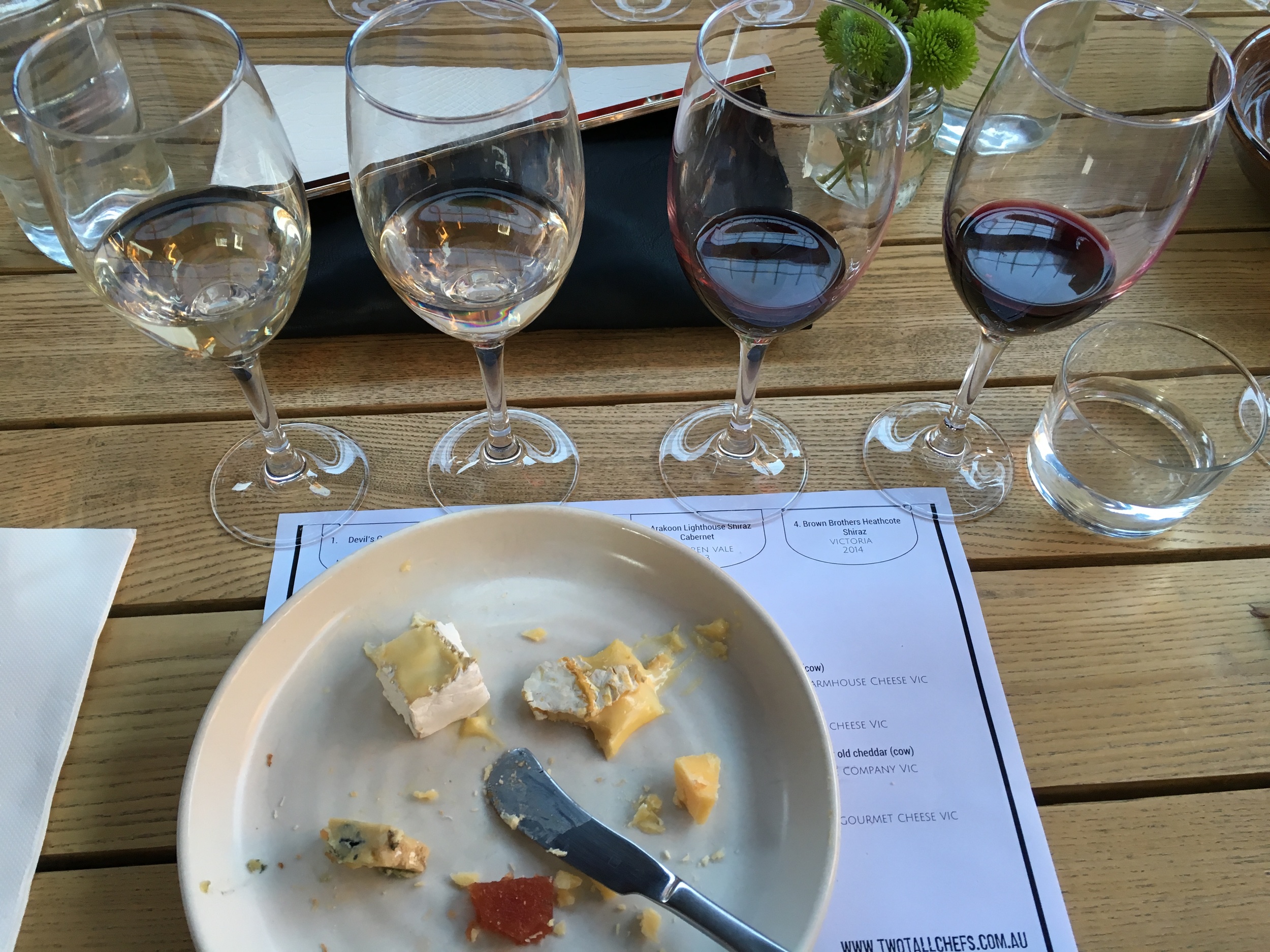 I love cheese. Give me a Saturday night in front of the TV with some good company and cheese and it's bliss. What I loved about this Food Social group is that Pheh makes it interactive by having the guests play games as well as having the chef cameo. Her personality is super infectious. She never looks stressed even though she's busy organising and chatting amongst everyone in the group.
I actually loved all the cheeses. It was hard to even choose a favourite as I was tasting each one. I'm not a blue cheese person. It's definitely not my go to cheese. I have to say it was well blended when paired to the Heathcote Shiraz. I added quince to take the "old socks" edge off and it actually evened it out to a more creamier taste. Because I made this combination up myself, it easily became my favourite. I thought it was a good achievement.
Kaarimba soft was nothing out of the ordinary for me. Just a standard Brie and it worked perfectly with The Devil's Corner Sauv Blanc (my favourite class of wine). I didn't like the Pinot at all. I tried making it work with the Grotto but it made the cheese taste worse for me. I like the Grotto by itself with it's strong woody flavouring but I think it would have paired better with a red to be honest. The Grotto for me was close in second place for me.
The Arakoon Shiraz Cabernet wasn't too bad. It worked well with all the cheeses. I drank this wine mostly with the 4 year aged cheddar. OMG THIS CHEDDAR WAS AMAZING! Cheddar, I think for most people, is just plain and boring. I really didn't know what to expect even after it was explained to me. It was definitely a tougher textured cheese and invasive on the palate.
Besides the Sauv Blanc, I enjoyed the Brown Brothers Shiraz just as well. It's safe to say that in the future I'll be buying a lot more reds to accompany my cheese! It paired so well with the blue cheese and I can't wait to try this combo again.
This was a once off Food Social event in collaboration with Two Tall Chefs. This isn't a standard event that Two Tall Chefs have on their own accord although all the cheeses and wine are available in store. I'd recommend it to anyone as you get a new experience on each event. Pheh did mention that Food Social is currently eating their way through the alphabet of foods across the world. For more Food Social events, please check out the Food Social events page as 2016 will surely be an exciting year packed with interesting cuisines and fun!
LILI'S RATING
Food and Drink: ★★★★☆
General Atmosphere: ★★★★☆
Value for Money: ★★★★☆
OVERALL: ★★★★☆